Enjoy the sun and the sea with one of our yachts.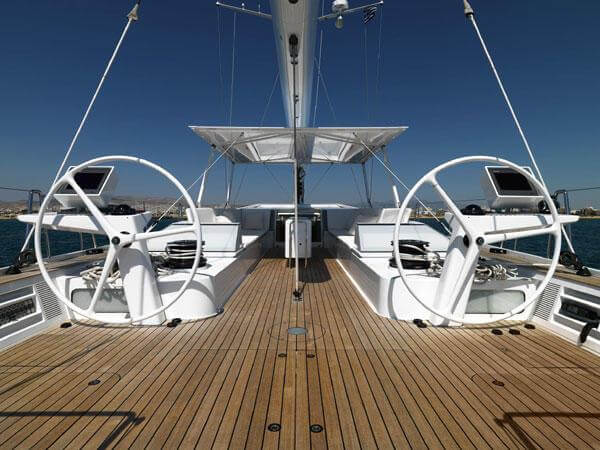 FULL DAY CRUISE IN ATHENS RIVIERA
Athens is a city, which is famous for its long and interesting history through the ages, as well as for its culture, which combines both traditional and modern characteristics.
What is less known, is that Athens is surrounded by sea with a unique coastline up to 30 miles. Only 20 minutes away from the Acropolis, you can reach the Athens Riviera and discover the most beautiful secret of the city.
We offer our guests the opportunity to meet the Athens Riviera, by luxurious sailing cruises.
ABOUT THE YACHT
She is a one off Swan 82 ' supported by a 53 ' super tender.
This unique combination, coupled with the extreme attention to detail, offer the greatest possible feeling of luxury, comfort and performance in one concept.
This yacht's main saloon benefits from big window bringing an abundance of light vs the usual claustrophobic saloon of her competition and even on much bigger yachts.
Retractable Bimini cover as well as wind shield to protect the guests from the sun and the winds.
Retractable swim platform
FULL DAY CRUISE IN AEGINA ISLAND
Our full-day sailing trip starting every morning from Kalamaki Marina in Athens allows us to visit the nearby island of Aegina with its lovely beaches, friendly town and the amazing ancient temple of Aphaia!
We leave Athens at 10:00 and sail south towards the coasts of nearby Aegina Island. The two hour trip will let you soak up some sun, have a drink and get ready for some swimming in one of our carefully-selected swimming spots.
.
SERVICE  AND PRICE
9 hours to 8 passengers / fixed fare 700€  per day.                                                      Price includes: fuel, VAT, skipper, wine or beer, soft drink, and sandwich.
Extras:
S.U.P 100 €
Fishing Equipment 50 €
Internet Access 30 €
FULL DAY CRUISE IN ATHENS RIVIERA
Let us lead you to your next adventure with our one day cruises. For those who want to feel free for one day, this is the ideal cruise!!! Soak up the sun during a carefree day at the breathtaking side of the Saronic Gulf.
Discover Aegina island and Moni islet, swimming stop in hidden bays with crystal waters and of course have a fresh seafood meal in waterfront fish taverns or on the boat! In case you feel limited in specific routes, you can plan your own itinerary regarding your mood and your own needs. You can find Snorkeling-Diving gears and a Paddle Board on board for water sports.
SERVICE  AND PRICE
11 hours to 23 passengers / fixed fare 1.800 €  per day.
Price includes: fuel, VAT, 2 crew, wine or beer, soft drink or juice and salmon or turkey sandwich.
Extras:
BBQ seafood shrimp, squid, octopus, traditional salad, wine, beer or soft drink and fruit 50 € / person.

BBQ pork or chicken souvlaki, traditional salad, roasted pies, wine, beer or soft drink and fruit 30 € / person.

Scuba diving capability by qualified divers after consultation.